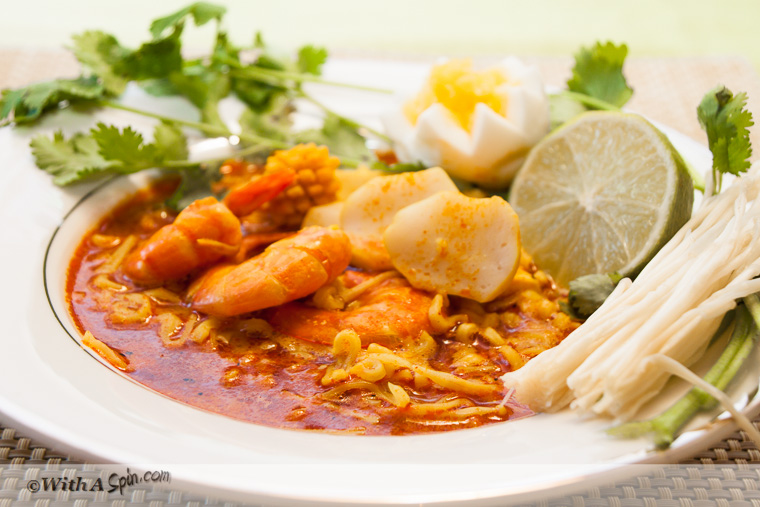 My reaction to the very first scoop of Laksa I ever tasted was WOW, WOW, WOW!  Oh, the medley of flavors and textures! My taste buds were brimming with bursts of flavors – savory, spicy with hint of sweetness as well as sourness.
En route to Bangladesh, my husband had a layover in Singapore for several hours, few years ago, and stumbled upon Laksa. The next few years I heard how delicious Laksa was many many times. He was convinced that no Singaporean/Malaysian restaurant here can match the taste so I never tried it until I made it to Singapore on a business trip. Guess, what was the first meal I ordered?   Sure thing..it had to be Laksa.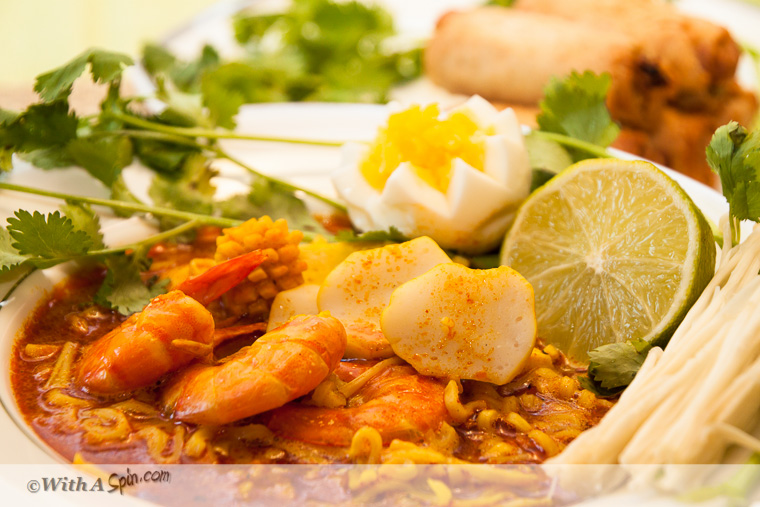 Each scoop of Laksa is full of flavors rich, spicy, heart warming.  I finished the entire bowl until one of my local Singaporean colleague came and told me they don't really finish the broth because it is so spicy and rich. I still finish the broth and don't let any drop go to waste, by ignoring the local way of eating, because it is that yummy.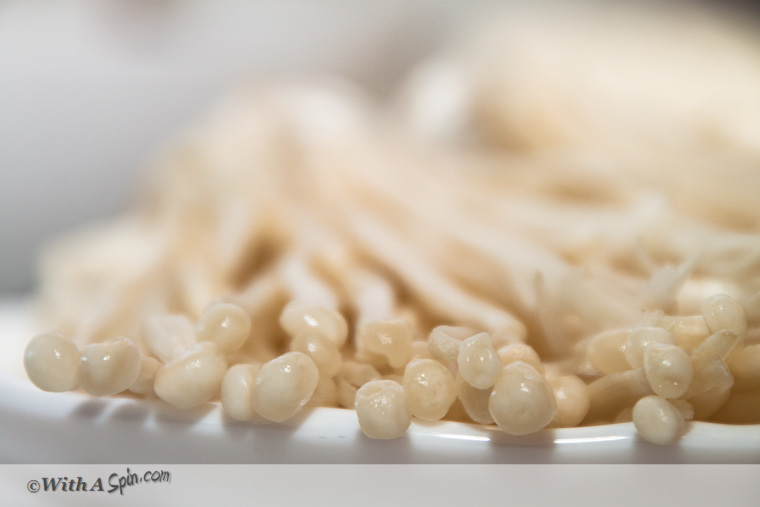 If you've never had Laksa, it is a curry like soup over noodles. The dish is very flavorful and loaded with protein from seafood and tofu.  You can also make with chicken but I like the seafood one much better.  Because of all the protein the soup already has I do not use any stock but plain water.  After washing all the fish products, I throw them in boiling water. As they cook, I consider the boiling water my base stock to build the soup.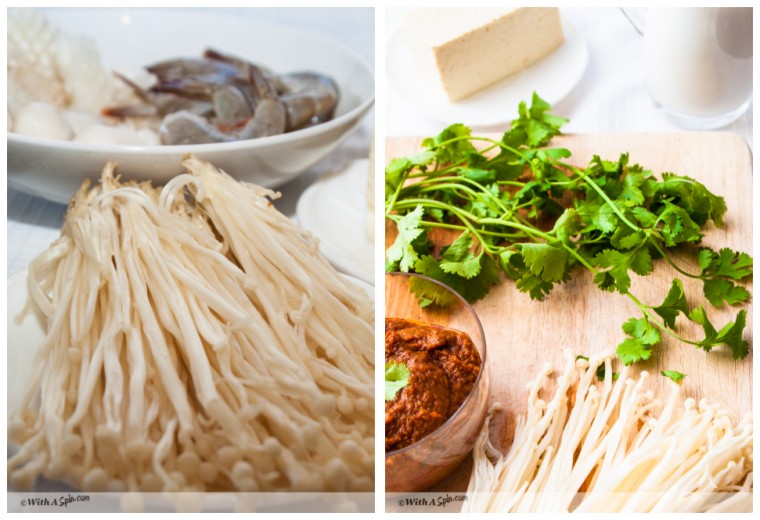 Now, let's talk about the Laksa paste a bit. Making the paste is not hard; just throw the assortments of ingredients in the blender. Make a paste and you have it. What makes it a bit inconvenient is the preparation of the paste ingredients, especially if you want to make it for a weeknight meal.  I made the paste from scratch few times and it stays well in the refrigerator for 2-3 days. Other times, after a long day of work, I got the paste from local Oriental store and the soup tasted just as good.  If you're in a hurry you can always buy a jar of pre-mixed paste, but part of the fun is the mad scientist approach to mixing and matching an assortment of ingredients to make the paste.  I am providing the paste recipe if you wish to try. You are welcome to try preparing Laksa with the store bought paste also if you are in a time crunch.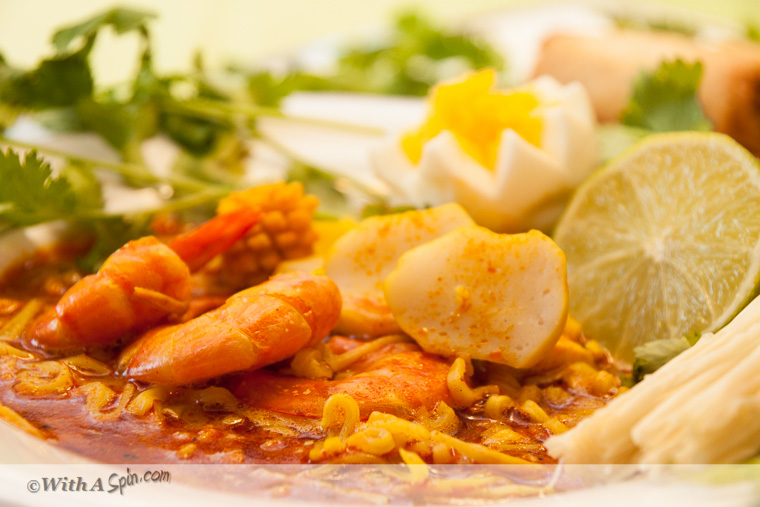 Also, I do not cook the noodle separately. I make it a one pot dish and the noodle when the seafood is close to being done.  Who needs multiple pots to wash when there is no difference in taste by making it in one pot? It is truly one of the tastiest dishes I have ever tried. I have served it in many family gatherings because it is so yummy and easy to cook if you have the paste ready beforehand. I hope you'll enjoy as much.

Laksa - Perfect one pot, Easy weeknight meal to Warm you up after a long day
Rich, Spicy, Laksa recipe. Perfect one pot, Easy weeknight meal to Warm you up after a long day
Ingredients
Laksa Paste:
2 small onions, chopped
4 cloves of garlic, crushed
2 tablespoon crushed peanuts
6 tablespoon soaked dried shrimp
2 stalks of fresh lemongrass finely chopped
2 tablespoon chopped fresh ginger
3 tablespoon shrimp paste
3 teaspoon chili powder
2 teaspoon ground turmeric
2 teaspoon ground coriander
2 teaspoon oil
Soup:
6 cups water
1 cup Laksa paste
½ lb shrimps
10-12 pieces fish balls
10-12 pieces squids, bite size
1 package tofu, medium firm
1 bunch Enoki mushroom, chopped 1 inches
1 lb rice noodle or egg noddle
salt to taste
1 cup coconut milk
Garnish:
Hard boiled eggs
Cilantro
Lime wedges
Instructions
Steps to prepare Laksa paste:
Put everything in a food processor and blend until smooth. Refrigerate until required.
Steps to prepare soup base:
Cut tofu in 1" square pieces. Marinade in one spoon of Laksa paste for 5-10 minutes.
Pan fry the marinated Tofu.
Bring water to boil.
Add all soup ingredient except coconut milk and noodle in a saucepan. Simmer for 5 minutes in medium heat.
Add Laksa paste and noodles.
Stir in coconut milk, bring to a boil, then reduce heat to medium-low and simmer until noodles and fish ingredients are cooked.
Adjust soup's seasoning with salt.
Ladle portions of broth, tofu, fish cake, shrimp, and squids in bowls.
Garnish with halves of hard-boiled egg, lime wedges, and cilantro.
Notes
Adjust herb and spices according to your taste.
Enoki mushroom can be substituted for other mushrooms. Bean sprouts are also commonly used in Laksa.
If you prefer, you can cook the noodle separately and add to the soup at the end. I prefer keeping it a one pot meal, so I cook everything together.