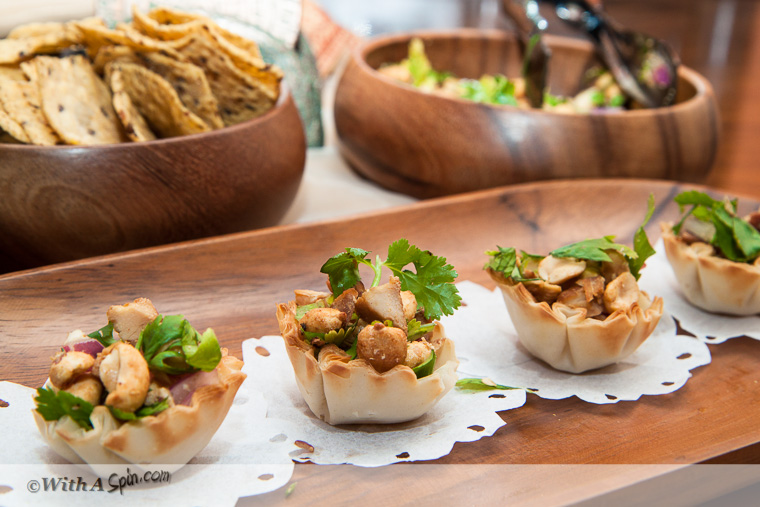 It's the football season.  Though I do not watch football, I like to binge and binging is a big part of booing or cheering a team.  However, does fan-friendly, sports watching food have to be unhealthy all the time? Well, they have to be bite size, crowd pleasing, quick and easy but unhealthy? Not so much.
Here's a great healthier, bite size option for cheering fans that takes only minutes to put together.  Whether your team wins or loses, be advised, friends can go nuts over these appetizers.  These nutty, spicy, tangy chicken shells are also great appetizer option for an elegant dinner parties, showers and brunches.
My husband and I are night owls which means we binge as the night progresses.  One of our favorite munching items is peanuts mixed with lemon juice, chopped red onion and green chilies.  Few years ago, while gorging on the mixed peanuts, I was thinking of appetizer options for our next dinner party.  Immediately, my mind was looking for ways to serve these delicious peanuts elegantly, and quickly in bite size portions. I also did not want to go through the hassle of warming or frying anything so the perfect option that came to mind were Phyllo shells (Phyllo shells are available at any large supermarket (Target, Walmart, Kroger, etc.)).  These shells are crispy, thin, airy and very sophisticated.
The next morning I was thinking of ways to improvise the nuts and thought chicken and cilantro will add even greater punch to each bite. The chicken can be prepared few days ahead of time if you are time pressed during the day of the party.  I usually prepare the salad (except for adding the peanuts) 4-5 hours ahead of serving time so that I am not super busy when friends start to arrive.  Making ahead also let's the different flavors mingle with each other.  I don't add the peanut ahead of time in fear that the peanuts may lose the crunchiness and make the salad mushy.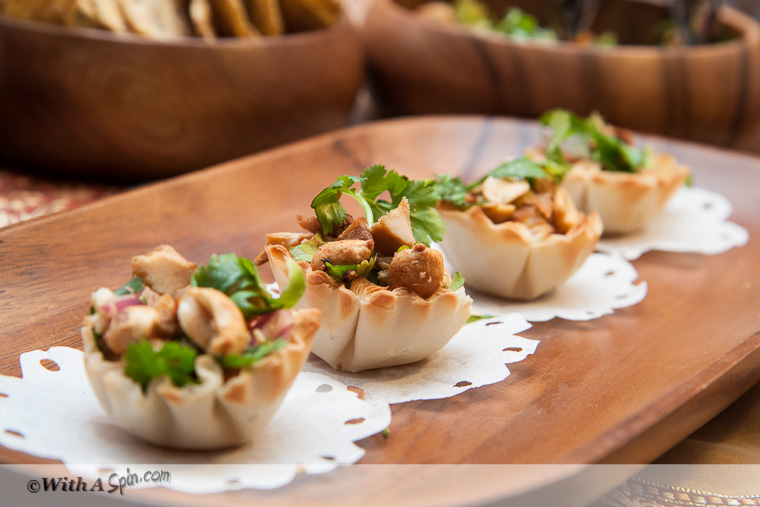 When I am ready to serve, I take the salad out of the refrigerator, add in the nuts, scoop a spoon on each of the shells and ready to go.  No heating, no frying, no warming up but still an classy, spicy, scrumptious snack.
Every time I serve these cuties to my friends, they start munching on the suckers right from the serving plate without waiting for me to finish filling all the shells.  By the time, I am done with filling salads on the first serving plate, it's usually time to get the next batch going.  That's how nuts people go over these nutty chicken shells.
Whether your team wins or loses the game(I do hope they win), you will come out a winner anytime you serve these. These chic appetizer shells never failed me.  If you decide to give these a try let me know how they turned out for your crowd.
For all my Bengali readers, I am planning on publishing a Bangla version of the recipe from now on.  I must admit that it has been almost 12+ years since I have written a Bangla word let alone typing in Bangla.  I anticipate, there will be many spelling slippages even though it is my native tongue.  Please pardon and bear with me.  আশা করি ক্ষমা সুন্দর দৃষ্টিতে দেখবেন।

Nutty chicken salad in phyllo shells
Chic appetizer shells
Ingredients
½ pound Chicken Breast cut in small pieces
2 cloves of garlic
3-4 teaspoon lemon juice
1 teaspoon oil
½ cup Red Onion chopped
½ cup cilantro chopped
1 cup peanut, roasted in sea salt
4-5 Green chilies thinly chopped
Lemon juice to taste
Black salt to taste
Phyllo shells
Instructions
Steps to cook chicken:
Heat pan and add oil.
Sauté garlic until slightly brown.
Add chicken pieces and cook in medium heat until tender. Add water if needed.
Add lemon juice and mix well with chicken.
Cook until very tender. Chicken should be tender enough to shred with a fork.
Set shredded chicken aside.
Steps to make salad:
Mix onion, cilantro, green chili, lemon juice and black salt.
Add chicken.
Steps to assemble shells:
Thaw phyllo shells.
Add peanuts to the salad just before serving.
Spoon salad to shells.
Notes
You can add cubed grilled chicken.
Adjust chili, salt and lemon juice according to taste.
Add nuts just before filling the shells so the peanuts do not get mushy.
[print_this]
Recipe : Nutty chicken shells
উপকরন :
১/২ পাউন্ড হার ছারা ছোট মুরগির টুকরা
২-৩ রসুন কোয়া
৩-৪ চা চামচ লেবুর রস
১ চা চামচ তেল
১/২ কাপ লাল পেঁয়াজ কুচি
১/২ কাপ ধনেপাতা কুচি
১ কাপ ভাজা বাদাম
৪-৫ কাঁচা মরিচ কুচি
লেবুর রস, স্বাদ অনুযায়ি
বিট লবণ, স্বাদ অনুযায়ি
Phyllo শেল
প্রণালি :
মুরগি রান্না করা:
১. চুলায় তেল গরম করুন।
২. রশুন সামান্য বাদামি করে ভাজুন।
৩. মুরগি মাঝারি আচেঁ  রাঁধুন. প্রয়োজনে একটু পানি দিন।
৪. লেবুর রস দিন।
৫. খুব নরম করে রান্না করুন যেন কাঁটাচামচ দিয়ে ছেড়া যায়।
৬. রান্না করা মুরগি সরিয়ে রাখুন।
সালাদ করা:
১. পেঁয়াজ, ধনেপাতা, কাঁচা মরিচ, লেবুর রস এবং বিট লবন একসাথে মেশান।
২. রান্না করা মুরগি যোগ করুন।
Phyllo শেল সাজানো :
১. Phyllo শেল ঘরের তাপমাতর্ায় আনুন।
২. সালােদ ভাজা চীনাবাদাম যোগ করুন।
৩. চামচ দিয়ে সালাদ শেলে ভরুন।
প্রয়োজনিও কিছু টিপস্ এর জনে্য দয়াকরে আটির্কেল অথবা ইংরেজি রেসিপির নোট সেকশন টা একটু দেখে নেবেন।
[/print_this]