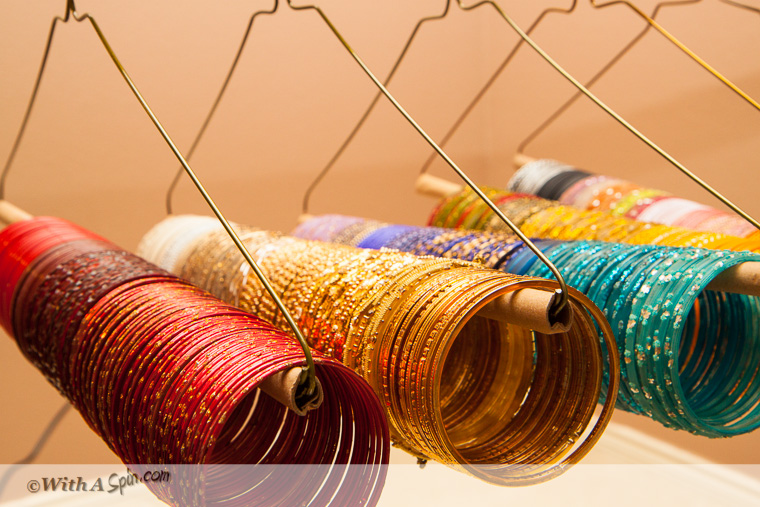 Do you agree that no matter how much you organize your home, there are always clutter at some corner or the other? What about your fashion jewelry? How do you keep all your bangles and bracelets organized? Are you the kind who has everything tidied up or are you one who can use some help in the area of jewelry organization? I couldn't stop laughing when I read a recent ShopSmart poll. According to the poll, women are twice as likely as men to dump messy or out of place items into their spouse or partner's space. I was laughing because it is true for me. Many times I have stashed out of place items in my husband's side of the closet to keep my side organized. Talk about organization! Are women pro or what?
We share the same room as our home office and lately my bangles, bracelets and some of R's toys crept into the office room closet. To be exact, on my husband's side of the closet. Please don't ask me how my bangles ended up there! To make things even worse, R found a way to get in the closet in the 2 minutes we kept the door open. Over time, she got in and out few more times and off course she is dragged towards the colorful round items. The next thing I know, the bangles are all over the floor from my pretty bangles holder that I brought all the way from Bangladesh. Eventually, I found one bracelet in the car so I knew it was time to get them off the floor.
Since my cabinet spaces in the closets are already pretty much full, I decided to hang the bangles. We usually take the dry cleaning hangers back to the cleaners for recycling, but have few lying around here and there. This was a perfect way to re-purpose some of them. They perfectly hang on a rod. Even better, you can hang them on some hooks by the door to save even more space.
Material List:
1. Dry cleaner's hangers
2. Plier
Steps:
1. Cut one side of the hanger with a plier.

2. Using the plier make a loop on the bottom end.

3. Bend the other end a little so it can lock through the loop.

4. Insert bangles and bracelets and lock the loop. Hang the hanger.
Save some cabinet space, get clutter off the floor with this simple DIY solution. Organize your bracelets and bangles in a very creative and inexpensive way.