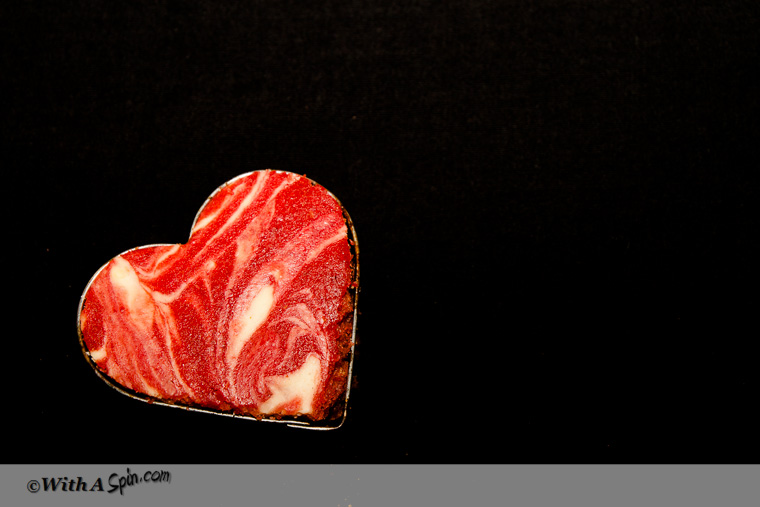 Yet another post where beetroot is the main ingredient.  First, the beet cupcake, then beet ravioli and now a marbled cheesecake that's made out of beet!  I am sure this is not the last one because I am in love with beet these days.  I am fond of the rich hue that beet has and adds to the food.  I am so in love with this root vegetable that I am even creating all natural paint for my daughter so she can have non-toxic dye to paint with.  The color of beet is perfect to make all natural food for Valentine's day that is right around the corner.  The marbled beet cheesecake is a perfect blend of natural red velvet cake and cheesecake layers.  Who can say no to that?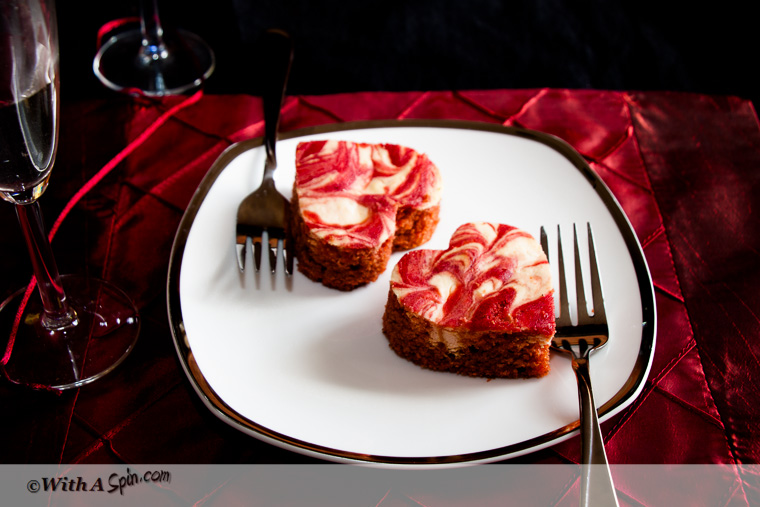 I know my husband since High school and Valentine's day has never been a big deal for us.  I agree with him wholeheartedly that love should be celebrated everyday.  There is no need to focus on love on one day and not make love special for the rest of the 364 days.  However, we are thinking of making some changes with Valentine's day as R grows up.  Given that we do not celebrate Halloween, Christmas(we celebrate two Eids, there will many posts on these, stay tuned) and some of the other winter holidays, and R will not be participating in any of these, we want to add Valentine's day to R's list and make fond family traditions.  Even though she is loved everyday, this holiday can be something that she can look back, cherish and have fond memories along with other holidays that we celebrate.
Few months ago, I came across Red Velvet cheesecake brownies at The Novice Chef Blog By Jesicca and thought these would be perfect for Valentine's Day.  However, I don't want to add potentially toxic food color to anything for the sake of just adding color, so I decided to prepare the marbled cheesecake using all natural ingredients.  AND there, I didn't even have to think hard what I will be using, I already knew it would be beet 🙂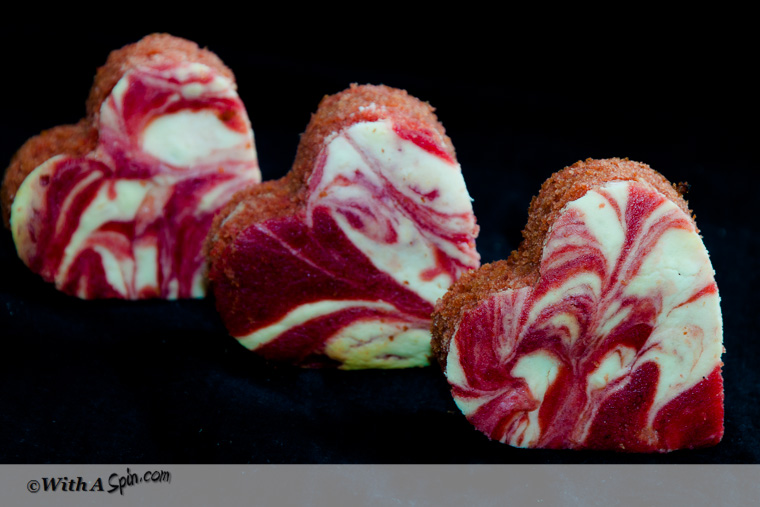 If you have read my beet cupcake post, you'll notice the recipe is very similar to the beet cake layer.  However, there is a cheesecake layer and additional steps to make the swirls.  Don't be discouraged to see the long list of recipe steps.  Even though there are many steps, they are very easy.  You make the beet cake layer, the cheesecake layer, put them together and voila!  If you are not particularly fond of chocolate, you can omit the cocoa powder and the result will still be soft, smooth, yummylicious marbled cheesecake.
Red Velvet Marbled Cheesecake
Festive and oh so adorable. This cheerful Red Velvet cheesecake is an indulgent new take on the traditional Red Velvet Cake and cheesecake.
Ingredients
1 large beet (1 cup puree)
2 tablespoon freshly squeezed lemon juice
3 eggs
1 cup oil
½ cup brown sugar
1 cup granulated sugar
2 cups all-purpose flour
2 teaspoons baking powder
1 teaspoon salt
4 tablespoons milk
2 tablespoon cocoa powder (optional)
1 ½ teaspoons pure vanilla extract
16 oz cream cheese
½ cup sugar
1 egg
½ tea spoon vanilla
Instructions
Steps to cook beets:
Preheat oven to 375 degrees Fahrenheit.
Wash and chop beets.
Place in a baking tray and wrap with parchment paper or aluminum foil.
Roast until soft. About an hour.
Cool, add lemon juice and make a silky, smooth puree in blender.
Measure 1 cup of the beet puree and set aside.
Steps to make beet cake/brownie layer:
Preheat oven to 350 degrees Fahrenheit.
Line or oil/butter a jelly roll tray.
Combine the flour, baking powder, salt and cocoa powder (if using). Set aside.
Cream together oil and sugar.
Add eggs, one at a time.
Add vanilla.
Slowly add flour mixture to the wet ingredients.
Fold 1 cup beet puree into the cake batter.
Add 2 tablespoons milk.
Set aside ¾ cup batter.
Add remaining 2 tablespoons milk in the set aside batter.
Pour the remaining batter in the jelly roll pan and spread evenly.
Steps to make cheesecake layer:
Beat cream cheese and sugar until fluffy.
Add egg and vanilla and mix until there are no lumps.
Add cream cheese layer on top of beet cake layer and smooth evenly.
Steps to make swirls:
Drop spoonfuls of set aside beet cake layer on top of cheese cake layer.
Drag a knife tip through the cheesecake and beet cake layers to create swirls.
Bake 30 minutes in the center.
Cool completely before using a heart shape cookie cutter to create individual pieces.
Notes
Depending on the oven temperature, baking time may vary.
To achieve the best color, make the beet puree as smooth as possible.
I used brown sugar because I had some handy. Regular sugar should work as well.
Using a food processor/hand mixer will make the cheese cake layer easier to make.
Don't worry if the beet cake layer is thick.
You may add more sugar to the cheesecake layer. I like to keep it with just a hint of sweetness.
[print_this]
রেসিপি : বীট মার্বল চীজকেক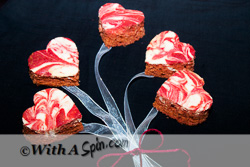 উপকরণ:
১টি বড় বীট  (১ কাপ ভতার্)
২ চামচ লেবুর রস
৩ টি ডিম
১কাপ তেল
১/২ কাপ বাদামী চিনি
১ কাপ চিনি
২ কাপ ময়দা
২ চা চামচ বেকিং পাউডার
১ চা চামচ লবণ
৪ টেবিল চামচ দুধ
২ চামচ কোকো (ইচ্ছা)
১ ১/২ চা চামচ ভ্যানিলা
১৬ আউন্স ক্রীমচীজ
১/২ কাপ চিনি
১ টি ডিম
১/২ চা চামচ ভ্যানিলা
প্রণালি :
বীট রান্না করা:
ওভেন ৩৭৫ ডিগ্রীতে Preheat করুন।
বীট ধুয়ে কুচি কুচি করে কাটুন।
অ্যালুমিনিয়াম ফয়েেল মোড়ান এবং নরম না হওয়া পর্যন্ত রোস্ট করুন। প্রায় এক ঘন্টা।
বীট ঠান্ডা হলে লেবু রস দিয়ে মসৃণ করে ব্লেন্ডারে পিশে নিন।
১ কাপ পরিমাপ করে সরিয়ে রাখুন।
বীট কেক স্তর :
ওভেন ৩৫০ ডিগ্রীতে Preheat করুন।
একটি জেলি রোল ট্রেতে তেল মাখান অথবা পারচমেন্ট পেপার বিছান।
ময়দা, বেকিং পাউডার, লবণ এবং কোকো (ইচ্ছা) একসঙ্গে মিশান।
তেল এবং চিনি মসৃণ করে মেশান।
একটি করে ডিম মেশান।
ভ্যানিলা যোগ করুন।
ধীরে ধীরে ময়দা মিশ্রণ ভেজা উপাদানগুলো সােথ যোগ করুন।
বীট ও ২ টেবিল চামুচ দুধ যোগ করুন।
৩/৪ কাপ কেক  মিশ্রণ সরিয়ে রেখে বাকিটা জেলি রোল প্যােন ঢেলে সমানভাবে ছড়িয়ে দিন।
চীজ কেক স্তর:
ক্রিম চীজ এবং চিনি ভালভাবে মেশান।
ডিম ও ভ্যানিলা দিয়ে এমনভাবে মেশান যেন কোনো দলা না থাকে।
বীট কেক স্তরের উপরে ক্রীমচীজ স্তর দিয়ে সমানভাবে ছড়িয়ে দিন।
মার্বল করা:
চীজ কেক স্তরের  উপর সরিয়ে রাখা বীট কেক মিশ্রণ চামুচ দিয়ে একটু একটু করে ঢালুন।
একটি ছুরি দিয়ে তৈরি টেনে আঁকিবুকি  করুন।
ওভেন এ ২৫ মিনিট বেক করুন।
হার্ট আকৃতি কুকি কাটার ডিয়ে ব্যক্তির টুকরা তৈরি ব্যবহার করার পূর্বে সম্পূর্ণভাবে ঠান্ডা হলে হার্ট অথবা অন্য যেকোনো আকৃতিরকুকি কাটার দিয়ে টুকরা করুন।
নোট:
প্রয়োজনিও কিছু টিপস্ এর জনে্য দয়াকরে আটির্কেল অথবা ইংরেজি রেসিপির নোট সেকশনটা একটু দেখে নেবেন।
[/print_this]
Sending this to "Cake of the week" event and Priya's Valentine's Day Recipe Contest @ Priya's Versatile Recipes.