Ramadan Kareem!
It is such a blessing to be starting the month of Ramadan today. Ramadan fasting is more than just not eating and drinking from sunrise to sunset. Yes, the minimal requirement is abstention from three basic things: food, drink and sexual satisfaction. This is the first or ordinary level of fasting and the reward is given accordingly but there is more to it to rack up bonus points.
Keeping one's ears, eyes, tongue, hands and feet free from sin is the second level of fasting. For most Muslims, just abstaining from the minimum requirement is not sufficient, and they strive to see no evil, hear no evil, speak no evil or do no evil. This special fasting is to restrain the bodily organs from all kinds of prohibitions.
The third or the extra special level of fasting involves abstaining from all unworthy thoughts, loves, desires and wishes in total disregard of everything except the thought and remembrance of God (Allah swt). One may physically be present in the world, but the internal self is exclusively engaged towards God. This is the perfection and not many can attain this stage. It is indeed a pure delight to be able to climb to the third level of fasting.
In terms of delightful, these delicate Persian rice flour cookies with a delicate rose flavor have the extra zip that distinct them with any other cookies I have ever had. Rose water and ghee gives these gluten-free cookies an extra zing and aroma unlike any other. A pure delight!
I divided my dough and added an extra dimension to one part by adding saffron. Rice flour cookies with ghee, rose-water and saffron is a masterpiece hard to beat. I did not add any topping to the letter shaped cookies. However, in traditional round Nan Berenji poppy seeds are often added as topping. I added poppy seeds on the regular portion but for the saffron cookies , I used crushed pistachio.  Also, traditionally, cardamom powder is added to the Persian Nan Berenji cookies.  I wanted the rose flavor to be prominent in the cookies so I opted for cardamom powder.  Feel free to add if you want.
Enjoy these hard to resist delights during tea time or take a delicate bite during iftar or suhoor in the month of Ramadan.  The highly delectable cookies have a very crumbly, sandy, melt in the mouth texture.  These cookies are also perfect if you want to start a Ramadan and Eid baking tradition with the kids. We love using the Islamic shape cookie cutters to cut out the cookie too.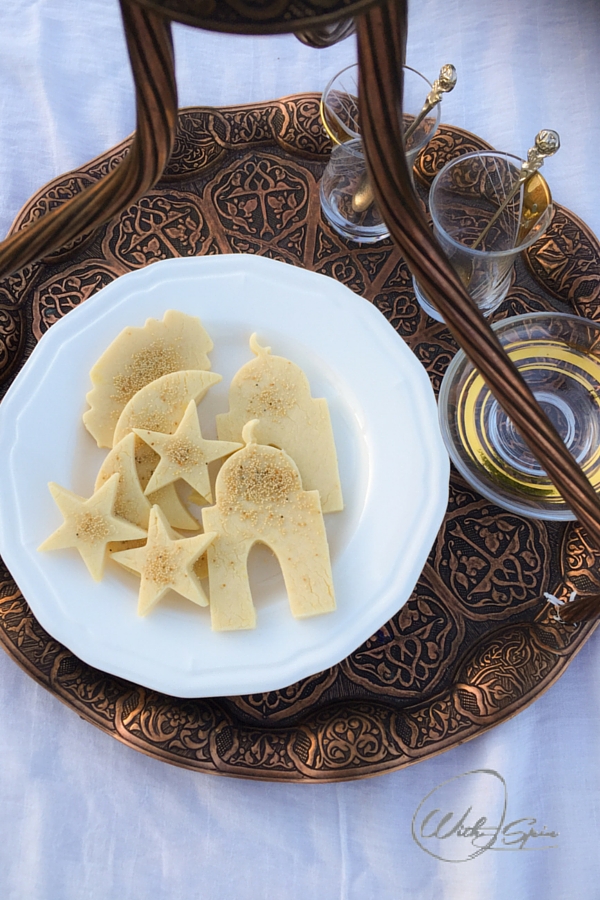 Did you know rose water is also used for religious purposes, and sprinkled inside many mosques around the world?

Persian Rose Water and Saffron Cookies Nan Berenji
Hard to resist Persian cookie, nan berenji is a highly delectable cookie with a very crumbly, sandy, melt in the mouth texture. These cookies are also perfect if you want to start a Ramadan baking tradition with the kids.
Ingredients
1 cups sugar
½ cup water
¼ cup rose water
½ teaspoon lime juice
For the batter:
¾ cup clarified butter/ghee
3 egg yolks
4 cups rice flour
Saffron (optional)
2 tablespoon poppy seeds
¼ cup pistachio, chopped
Instructions
Clarify the butter by bringing it to a boil over very low heat. Simmer for about 15 minutes, removing foam from the top as it rises. When the liquid is clear and the milk solids have settled to the bottom, decant the liquid in a bowl leaving the solids behind. Set aside.
Prepare the syrup by combining the sugar and water in a pot over medium heat. Bring to a boil. Stir well to dissolve the sugar for about 5 minutes. Reduce heat and simmer for another 7-10 minutes or until the mixture thickens to about a cup. Remove from heat.
Add the rose water and lime juice to syrup. Set aside to cool.
In a mixing bowl whisk the eggs with ghee until smooth and creamy.
Mix the flour. Gradually add in one cup of the sugar syrup and beat well with an electric mixer/hand mixer.
Steep few strands of saffron in 2 tablespoon of water.
Divide the cookie dough into two portions and add the saffron to one and knead well.
Pre-heat the oven to 350 degrees Fahrenheit.
Line two baking sheets with parchment papers.
Roll and cut into desired shape. Sprinkle some poppy seeds on top of each cookie.
Place on the cookie sheet and put it in the middle rack of the oven.
Bake for 12-15 minutes. Remove from the oven and gently place on the cooling racks.
Notes
The cookie dough should be thick enough to hold its shape; if it's not, add more rice flour in ¼ cup increments until it is firm and shiny.

These cookies crumble very easily.

The color of the cookies do not change much. The bottom gets a golden a little.
[print_this]
রেসিপিঃ পারসিয় বিস্কুট
উপকরণ:
১ কাপ চিনি
১/২ কাপ পানি
১/৪ কাপ গোলাপ জল
১/২ চা চামচ লেবুর রস
৩/৪ কাপ মাখন বা ঘি
৩ টি ডিমের কুসুম
৪ কাপ চালের আটা
জাফরান (ঐচ্ছিক)
২ টেবিল চামচ পোস্তদানা
১/৪ কাপ ভাঙ্গা পেস্তা বাদাম
প্রস্তত প্রনালী:
১. খুব কম তাপে মাখন জ্বাল দিয়ে ঘি তৈরি করুন। মাখন প্রায় ১৫ মিনিটের জন্য অল্প আঁচে রাখুন। উপরে ফেনা জমলে সেটা তুলে ফেলে দিন। ঘি স্বচ্ছ হলে তরলটুকু নিয়ে সরিয়ে রাখুন।
২. মাঝারি তাপে উপর একটি পাত্রে চিনি এবং পানি মিশ্রন দিয়ে সিরাপ তৈরি করুন। ফুটে উঠলে চিনি না গলা পর্যন্ত কিমি. তাপে প্রায় ৫ মিনিট ধরে নাড়ুন। তাপ কমিয়ে মিশ্রণ এক কাপ না হওয়া পর্যন্ত আরও ৭-১০ মিনিট অল্প আঁচে রাখুন।
৩. সিরাপে গোলাপ জল ও লেবু রস দিয়ে ঠান্ডা করুন.
৪. একটি মিক্সিং বাটিতে ঘি ও ডিমের কুসুম মসৃণ করে ফেটে নিন।
৫. ময়দা মেশান. ধীরে ধীরে এক কাপ চিনির সিরাপ যোগ করে বিস্কুটের খামির তৈরি করুন।
৬. ২ টেবিল চামচ পানিতে কিছু জাফরান ভিজিয়ে রাখুন।
৭. বিস্কুটের খামির দুই ভাগে ভাগ করে এক ভাগে জাফরান মিশিয়ে নিন।
৮. ৩৫০ ডিগ্রী ফারেনহাইটে ওভেন প্রি-হিট (গরম) করুন।
৯. বেকিং পেপার দিয়ে দুটি কুকি শিট প্রস্তুত করে রাখুন।
১০. বিস্কুটের খামির দিয়ে পছন্দসই আকৃতির কুকি আনিয়ে নিন। প্রতিটি কুকির উপরে কিছু পোস্তদানা বা পেস্তা বাদাম ছিটিয়ে দিন।
১১. কুকি শীট ওভেনের মাঝখানে বেক করতে দিন।
১২. বিস্কুট ১২-১৫ মিনিটের জন্য বেক করে ওভেন থেকে বের করে র্যাকের উপর ঠাণ্ডা করুন।
প্রয়োজনিও কিছু টিপস্ এর জন্যে দয়াকরে আটির্কেল অথবা ইংরেজি রেসিপির নোট সেকশনটা একটু দেখে নেবেন।
[/print_this]
You may purchase the Islamic shape cookie cutters here, if you like.