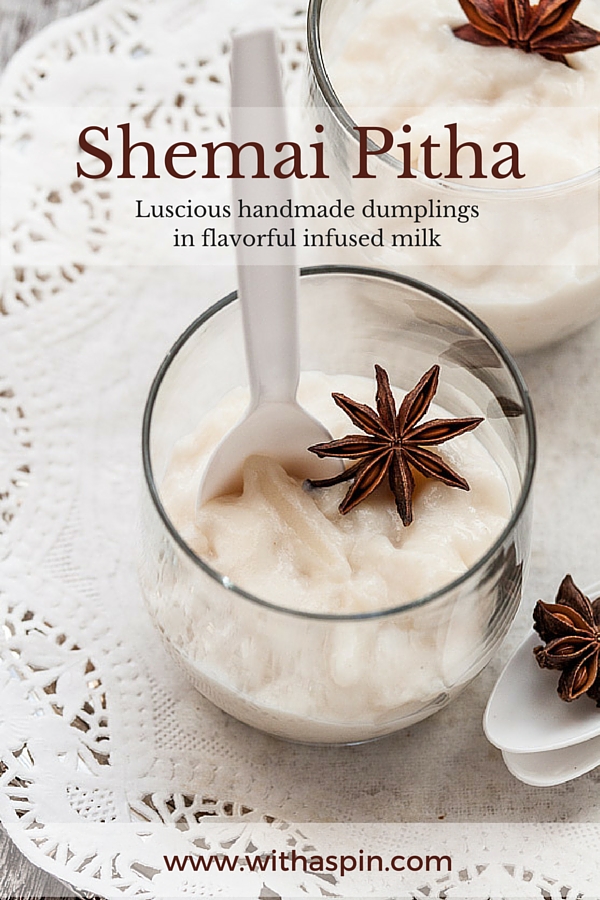 Life moves pretty fast. If you don't look around once in a while, you could miss it. I cannot believe how fast we are approaching the end of January. I've been meaning to write this post since the beginning of the year, but look where I am. A late "Happy New Year" to all of you who are reading. I hope the new year brings in new hopes, resolutions, and new spirits for you. My heartiest warm wishes just for you that you have a promising and fulfilling 2016.
Winter is the perfect time for pitha! Shemai pitha, often referred as hate kata shemai pitha, is handmade small spaghetti like dumplings cooked in a flavorful spice infused milk. Luscious, flavorful, scrumptious. As mentioned before, pithas are served at breakfast time or as a snack with tea. Many sweet varieties are reserved for desserts, weddings, holidays and special occasions. Shemai pitha fits into all the categories.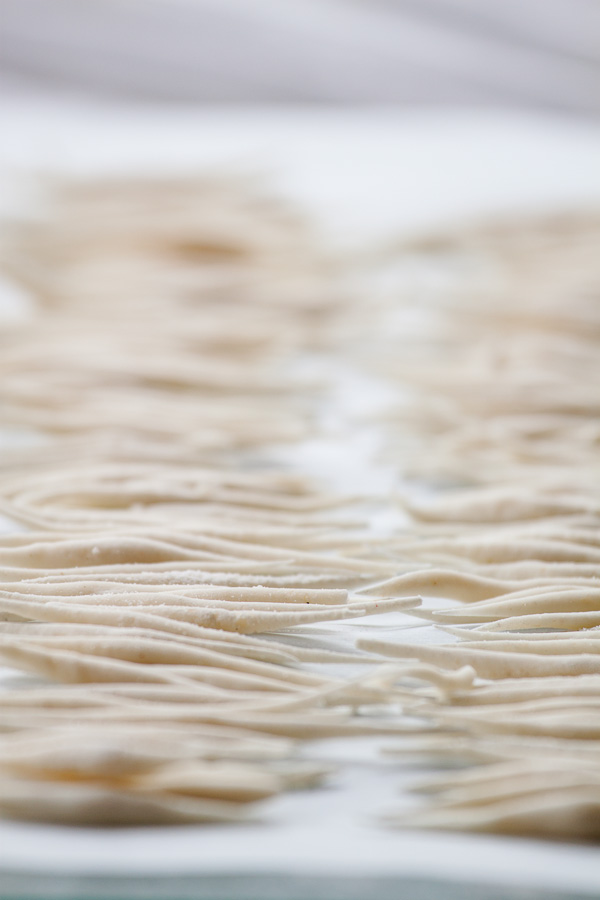 Due to the time consuming tedious process, shemai pitha is mostly popular in the rural areas of Bangladesh. People living in the urban areas find it difficult to manage the time to engage themselves in making pitha as it demands time and labor. I would love to make various pithas through out the year, but I can't. I do make it a point to make several types of pitha during every winter to relive our childhood tastes and memories.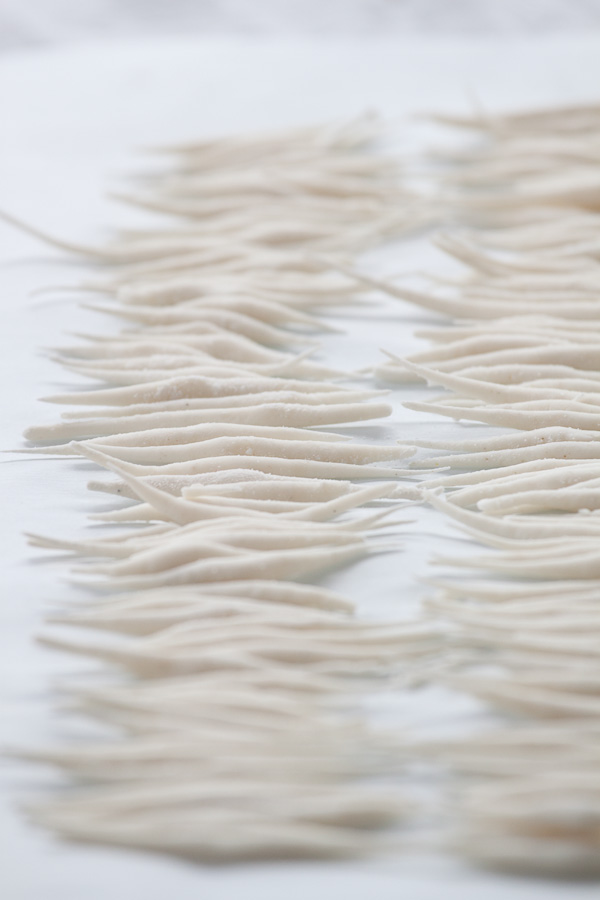 You can make a batch of hate kata shemai pitha and freeze them after they are dry. You can take out a small portion and cook in infused milk. On some occasions when time was really really tight, I have substituted orzo and skipped the whole handmade part. I do recommend you try out the handmade kind at least once to taste one of the best tasting dessert.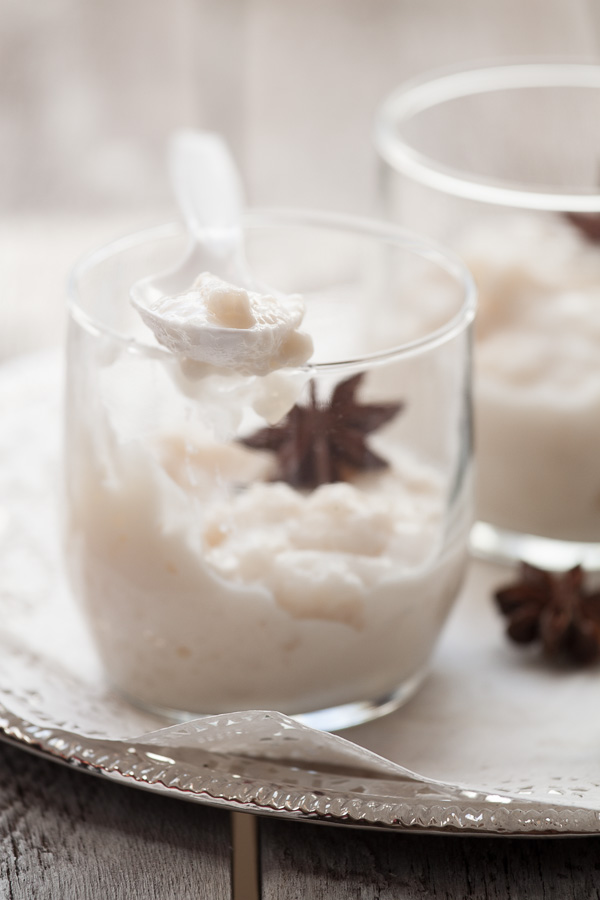 Shemai Pitha Recipe
Traditional Bangladeshi hate kata shemai pitha recipe. Luscious, full of flavor gluten free dumpling a.k.a pitha that you can serve as breakfast or dessert.
Recipe type:
Breakfast, Brunch, Dessert
Ingredients
2 cups water
½ teaspoon salt, or per taste
1 teaspoon oil
1 cups rice flour
2 cups coconut milk
2 cups milk
2 cardamom
1 bayleaf
2-3 cinnamon sticks, each about 1inch
¾ cup sugar (more if you like sweeter)
Instructions
Boil water with salt. Add oil.
When water is boiling hot, add the rice flour slowly. Lower the heat and mix with a wooden spoon making sure no lump remains.
Take the dough off the flame when water dries after about 2-3 minutes.
While still hot, but bearable to your hands, knead the dough very well in lightly rice flour dusted surface until smooth.
Divide dough into 3-4 balls and make a thin log out of each portion. With each log make half to an inch long very thin orzo like shaped shemai pitha with the palm of your hands. Continue until all logs are complete. Proceed to next step to cook or air dry the shemai pitha for 3-4 hours. At this point you can refrigerate the pitha for a week or freeze for 3 months in airtight container.
To cook the shemai pitha, Add the spices to the milk and bring the milk to boil. Add the pitha and turn the heat to medium low.
Cook the pitha in the milk for about 18-20 minutes stirring often but gently to prevent from burning the milk.
Add sugar and cook for another 5-8 minutes or until the milk pudding is of desired thickness.
Notes
Never add cold or room temperature water to the dough.
When air drying the shemai pitha, keep them in one layer to prevent from sticking to one another.
Dried shemai pitha can be refrigerated for a week or freeze for 3 months in airtight container.
Adjust sugar per taste. You may also use gur or jiggery instead of sugar. Brown sugar will give the pitha a different flavor which you may want to try sometimes.