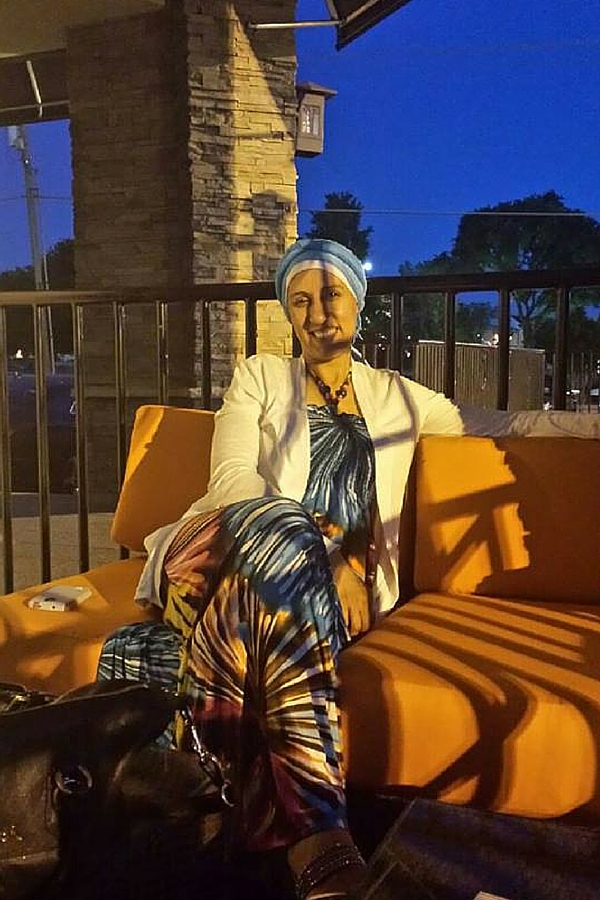 Salaam and hello my lovelies! I hope you all had a wonderful weekend. I'm super excited to start a new series on the blog where I'll be introducing inspiring entrepreneurs who maybe unheard of but are making a positive impact in our society and economy with their fabulous businesses. I hope you will enjoy this series.
First up is the amazing Kawtar Idrissi. She is from Morocco, currently living in TX and the owner of Tizirii. I've met her last Ramadan and a super fan of the brand she is building. I have some of her products available for you to purchase at the With A Spin shop and more are coming soon. When women are buying Tizirii products, it is like a gift/treat for themselves. Kawtar's products are beautiful inside and out.
Let's proceed to meet her and hear her story.
1. Welcome to With A Spin, Kawtar! Tell us about your business and how you got started.
I am Kawtar Idrissi. I created Tizirii out of my love of natural products and my desire to empower women. Love of natural products that I was so used to using, growing up in Morocco, before moving to the US. During my trips back to Morocco, the Berber women fascinated me. They are so dedicated and work very hard at making argan oil.
Argan oil is what they have in that region. They eat it, cook with it, and use it for their beauty… It is both their work and livelihood.
I have always loved using argan oil as it is superb multipurpose oil. I use it instead of a daily moisturizer, hand cream, night cream, body lotion, night serum, cuticle softener, nail strengthener, hair repair serum, hair loss treatment, deep hair treatment… you name it, I use it for all my beauty routine. I literally have no other hair and skin conditioning products in my home other than a sunblock. Tizirii Argan oil is the coolest natural beauty product!
Having Tizirii allows me to share this beauty wonder with the world, offer women an excellent alternative to the mostly toxic body products that are so prevalent in the market these days, as well contribute to the well being of Berber women.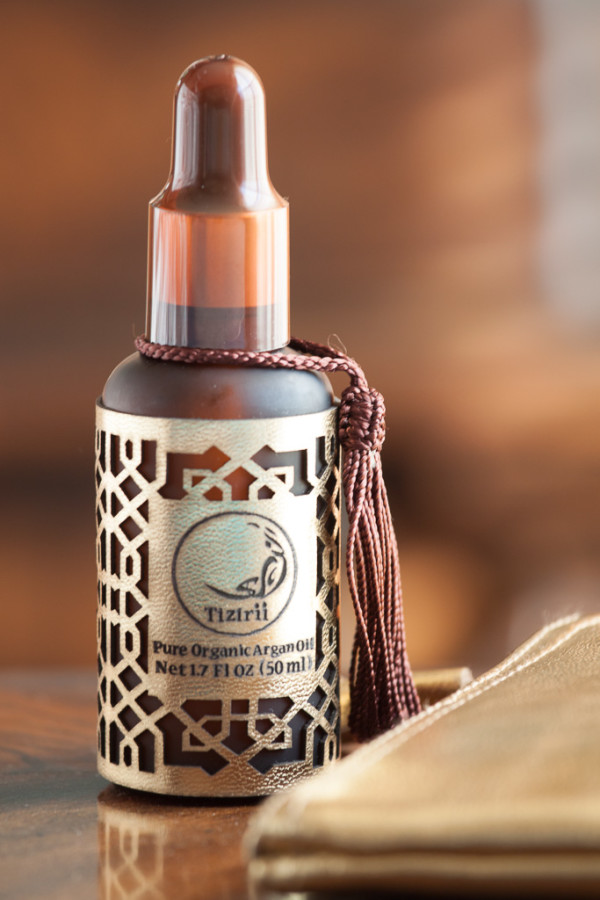 2. What is argan oil and what are its benefits?
In short, Argan oil an amazing gift of nature! Moroccans refer to it as "Liquid Gold"
Argan oil comes from a nut that grows in a tree. Argan is endemic to a region in the South of Morocco where the Berbers live. Berber women have used argan oil for centuries and we all know how beautiful their skin is.
If you have never used argan oil you have got to try it.
Tizirii Argan oil is a multipurpose oil great for your whole body
Tizirii Argan oil has double the vitamin E than in olive oil
Tizirii Argan oil is a unique oil that does not stay oily or greasy!!
Tizirii Argan oil is absorbed very quickly. You can actually put your makeup on within 2 minutes of applying the oil!
Tizirii Argan oil is full of good fatty acids, essential nourishment for hair and skin. It regulates the oiliness of the skin. When skin gets the right amount of fatty acids, it knows not to produce more oil! Hence, argan oil is great for oily skin too and helps control skin breakouts
Tizirii Argan oil keeps the skin hydrated for a long time, reduces the appearance of fine lines, and makes skin more elastic.
Tizirii Argan oil nourishes skin and hair
3. Who is your customer? How would With A Spin reader's benefit from your business/products.
Tizirrii users are health conscious woman who like to take care of their skin and body. For women who recognize the value and the importance of using natural and organic products and they love a unique beauty products.
With A Spin readers will be confident that if a products has the name Tizirii on it, it means that the product is free from toxins, parabens, Sulfates, artificial colors or perfumes… They will know with certainty that a Tizirii product is made with high quality natural ingredients and most of all it is made with love.
4. Why do your customers select you over your competitors?
Most of my customers know that I am Moroccan and that I personally have firsthand knowledge of where Tizirii argan oil comes from. They trust me with the quality of all my products.
Argan oil is an expensive oil by nature. It only grows in a small region in Morocco out of the whole world! It is also labor intensive to extract the oil and takes about 20 hours of work by the Berber women to make 1 liter of argan oil. Therefore, there is no such thing as inexpensive argan oil. If it is too good to be true, it definitely is in this case!
Many companies dilute argan oil with other carrier oils or additives to make more money out of it. They may call their products argan serum, argan treatment and so one. Unfortunately, people end up paying a lot for such products and reap little benefit from the argan. Some companies sell deodorized argan oil that has been heated and stripped of many of its nutrients. Therefore, one has to really know what they are buying as finding good quality argan oil can be tricky!
Tizirii Argan Oil is organic, certified by ECOCERT. It is cold pressed and bottled in dark brown glass bottles so that the oil stays protected from light. I personally designed the argan bottle to reflect Morocco. It is wrapped in a beautiful golden semi-leather sleeve that is laser cut and hand sewn by Moroccan artisans. A brown tassel dangles from its neck. It is a beautiful piece of art!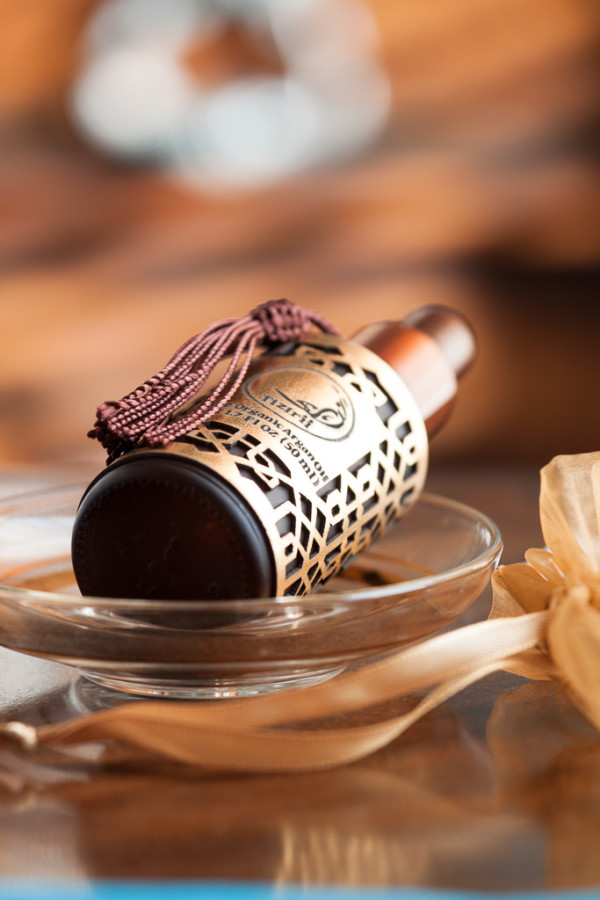 5. What's your goal or vision for the future of your business?
My long-term goal for my business is two folds. One is to be successful enough to be able to make a significant impact on the Berber women community. I would love to be able to build a school or at least support a literacy program for them and their children. Two is to become a brand synonym with beautiful, unique and natural beauty products.
6. Describe/outline your typical day?
Every day is different for me. One thing I know for sure is that it will be a busy day ☺
I have a wonderful household to run with a great husband and two boys 16 and 13. Therefore, my days are between that and running Tizirii. I do it all by myself. I am a 1-woman show☺.
Except for the Tizirii Argan oil 1.7 oz bottles that I designed and import directly from my supplier in Morocco, I make everything else myself. I also maintain my website and the social media accounts, so it does get hectic at times.
7. What has been your most satisfying moment in business?
One thing that I love in this business is the satisfaction that I get when a customer comes and tells me how wonderful my products are and how it changed their skin or hair… It makes it all worth it.
One of my sweetest customers is a lady in her early 60's who has been buying Tizirii Argan Oil since the brand's conception. She used to live in Singapore and moved to the US a few years ago. She told me that she used to buy this cream for her face that she loved so much and was sad she could not find it in the US. She was so happy after she had tried Tizirii Argan Oil that she had found an even better alternative. She loves how her skin stays hydrated and healthy looking. She has been buying it for herself and her two daughters ever since
8. Where can one buy Tizirii products at?
Tizirii products are available directly through the Tizirii website, the With A Spin marketplace, and at the Kotsanis Institute of Integrative Medicine in Grapevine, TX, Richardson Mercantile in Richardson, TX and Marketplace Boutiques in North Plano, TX.
Hope each of you enjoyed learning about Kawtar and her products. Feel free to say hi (or salam) to her and ask any questions you may have for her in the comment below.