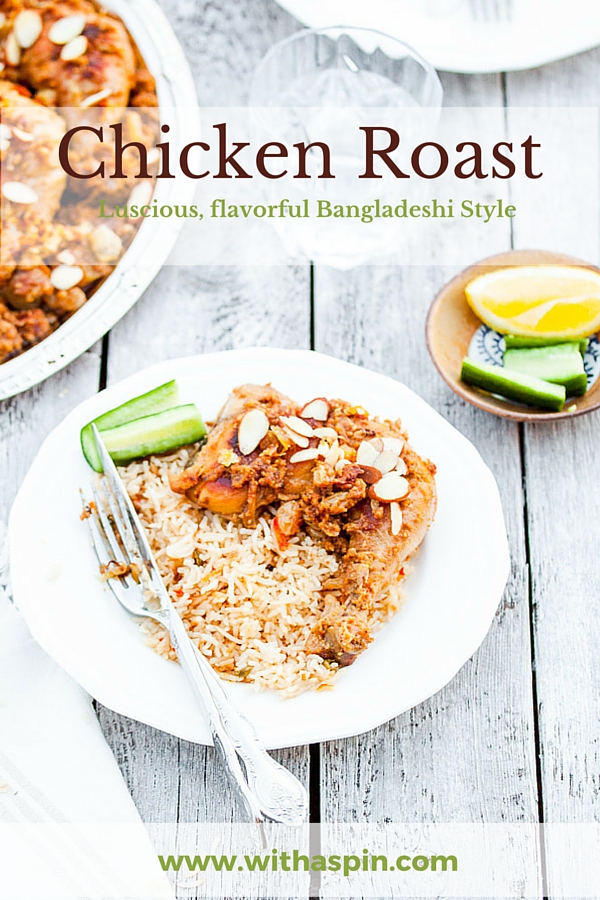 "Biye barir chicken roast", meaning chicken roast served at wedding, is a specialty that is omnipresent and the most sought after menu item in Bangladeshi weddings. In Bangladesh, chicken roast is a very popular item to prepare and serve during weddings, Eid and other exclusive occasions. Bangladeshi chicken roast is yet another Mughlai dish with creamy rich flavor coming from the use of yogurt, onion and some nutty ingredients. It's best served with parathas, Naans or special pilaf rice.
Traditional Bangladeshi style roast chicken, or Bangladeshi Chicken Roast as it is mostly called, is a traditional special occasion chicken recipe that is very different from the chicken roast recipes in the Western countries. The traditional chicken roast is rich in flavor from using spices like nutmeg, mace, and cardamom. Most often, ghee is used to prepare the dish and it always heightens the flavor. It's my daughter's favorite and mine too.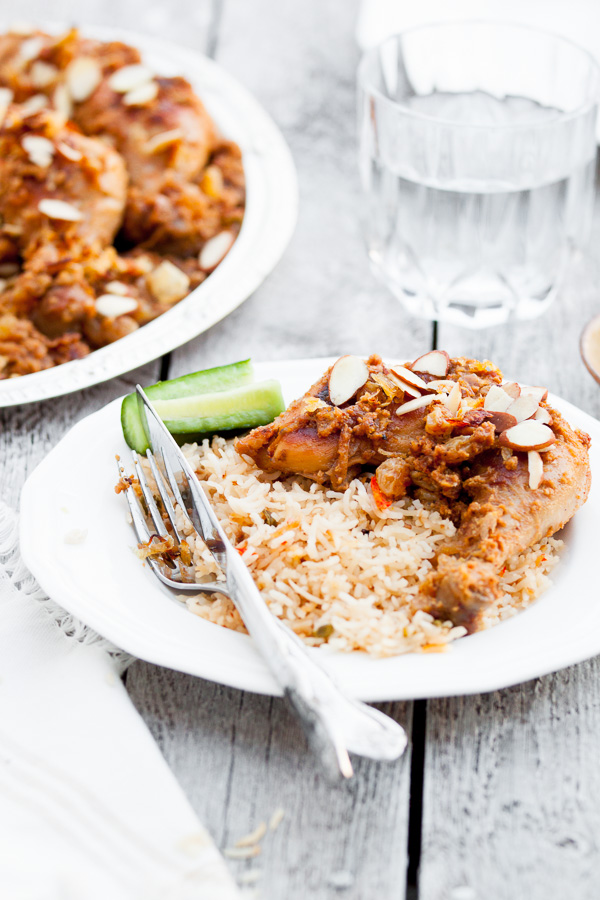 For large gatherings such as a wedding, the chicken roast is cooked on clay and brick oven similar to this photo. At home, the chicken roast is usually cooked on stovetop and not in an oven.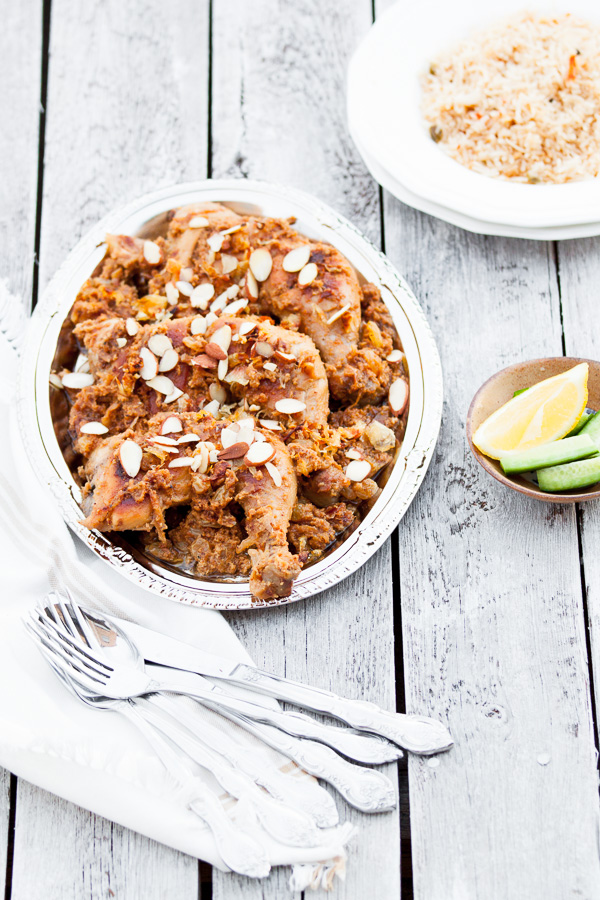 Don't let the long list of ingredients intimidate you. Once you read the directions, you will know that the Bangladeshi style chicken roast just needs a tad bit of advance planning and not complicated at all. At the end, it will be worth the effort when you prepare it. Trust me on this!

Bangladeshi Style Chicken Roast
Ingredients
6 pieces medium sized chicken leg quarters (about 3 lbs)
½ cup vinegar
1 teaspoon garlic paste
1 teaspoon ginger paste
½ teaspoon Salt, according to taste
2 cup ghee/butter (or oil)
1 cup beresta, divided
10-15 golden raisins
8-10 cardamom
1 tablespoon poppy seed (posto)
3 cinnamon stick, about 1 inch each
2 teaspoon coriander
½ teaspoon mace
½ teaspoon nutmeg
1 tablespoon garlic paste
1 tablespoon ginger paste
1 cup yogurt
3-4 green chili
1 tablespoon sugar
1 tablespoon lemon juice
2 tablespoon kewra or rose water
Almond for garnish
Instructions
Clean and drain chicken pieces.
Make a marinade with vinegar, garlic paste, ginger paste and salt. Marinate the chicken pieces in the refrigerator for 30 minutes to few hours.
Discard the vinegar marinade.
Heat 1 cup of ghee or oil. Fry the chicken pieces in medium heat until golden brown on all sides. About 10 minutes. You may need to fry the chicken pieces in 2 batches.
Grind the cardamom, poppy seed (posto), cinnamon stick, coriander, mace, nutmeg to a powder.
Add the powdered spices in the yogurt and mix well. Set aside.
Once all the pieces are fried, add the remaining ghee to the pan. Add ½ cup beresta.
Add all the ingredients (including the yougurt spice mix) except sugar, lemon juice and kewra/rose water. Sautee for 1-2 minutes. Add the chicken pieces back in the pan and cook covered until chicken is tender.
Add the green chilies, sugar, lemon juice and kewra/rose water and gently stir the pieces for 2-3 minutes.
Once the gravy starts separating from ghee, add the remaining ½ cup beresta.
Cook covered for 10-15 minutes in very low heat.
Garnish with almonds. Bon appetite!
Notes
I've always used ghee or butter to make Bangladeshi style chicken roast to give the roast most flavor.
Feel free to adjust green chili and salt per taste.